I recently became part of an art journaling 30 day challenge. It is being hosted by
Janel
at
Run With Scissors
.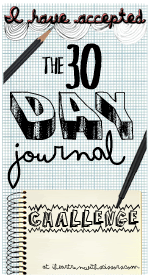 I have a goal to art journal every day and then post on my Flickr, so there should be daily updates there.
But I also thought that I would share my journal pages here every Saturday until the challenge is done.
Here is what I have done so far:
Prompt 2
- List some goals for the 30 day challenge
Prompt 3
- List things that you want to do in June
I really like how this last one turned out sort of looking like a beach ball - which not my original intention, but I really like it.
So for those who have been curious about what art journaling is, now you get a little glimpse into my art journal - and you will learn that it does not take an artist to art journal :-)